Appsbroker refines cloud migration to a T with new 'T-shirt' sized VM Migration packages to accelerate customers' journeys to the Cloud. Data Migration packages coming soon. Read on to find out more.
While there are numerous cost benefits associated with moving your VMs and data to the Cloud, the journey can often feel disruptive, overwhelming, and risky. 
At Appsbroker, we recognise this and have spent the last 10+ years working with leading enterprise clients to refine the VM and data migration process to a T – quite literally.
As a result, we're able to deliver cloud migrations in 'T-shirt' sized packages to suit your business' needs and budget, within the timescale you need – starting with VM migration.
No surprises. No open-ended projects. Just a clear path to migration.
When considering your cloud migration journey, there are multiple paths you can take; different workloads require different technology choices to achieve your business' desired goal. 
Our Small, Medium, Large and Extra Large VM Migration packages make it quick and easy to identify your initial path to the Cloud and demonstrate how many weeks your migration will take, depending on the amount of VMs that need migrating.
Stay one step ahead and make the smart technology choice with our VM Migration packages on Google Cloud. No more guesswork – just simple packages that put you in the driving seat.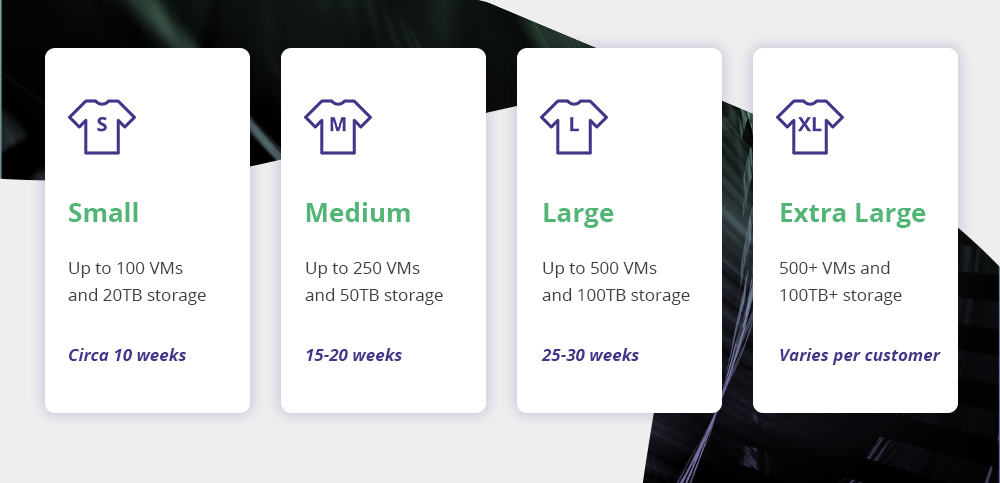 Click here to find your organisation's 'T-shirt' size and learn more about our VM migration promise.
Why migrate your VMs to Google Cloud?
Maximise Agility
Leave your existing data centre behind and escape from vendor lock-in. Move faster and adapt to meet your customers' needs, from IT resource allocation to application performance and scaling.
Reduce Costs
Reduce capital expenditure by migrating from on-premises to Google Cloud. Calculate your potential cost savings now with our Google Cloud Cost Savings Calculator.

Boost Efficiency
Optimise your operational processes and utilise your IT resources more efficiently – enabling you to plan and spin up additional resources fast.
Scale Resources
Drive predictability across your IT costs and cost to serve that's directly linked to your business' usage and consumption.
Reduce Service Disruption
Successfully migrate your VMs and workloads to the Cloud, while improving your application's stability – reducing IT maintenance and service disruption.

Book your free IT cost assessment today to kick-start your cloud journey.
Move to the Cloud in weeks, not years with Appsbroker.
Our tailored VM Migration packages enable us to meet you where you are and take you on a cloud journey in four simple steps.
Assess
We'll assess your application landscape using our IT cost assessment tool and application landscape discovery accelerator.
Plan
We'll help you plan what you can move and in which order using our dedicated frameworks and migration patterns, before laying your cloud foundations using automated landing zones.
Migrate
Then it's time to migrate! Pick a path and we'll help you get started using our VM migration accelerator.
Manage
We'll help you manage and optimise your operations using our IT cost optimisation service to reduce cost, and streamline your billing using Cloud Assure – our exclusive GCP billing management service.
Related Read: Accelerate Your Journey to the Cloud with CLOUD Landing Zones
Why choose Appsbroker for your VM migration?
As a Google Cloud Partner and Managed Service Provider (MSP), we have extensive experience delivering VM migrations and large-scale data centre transformations (DCTs) using our purpose-built methodologies and tools.
Our quick-start pricing packages and cloud cost optimisation focus via Cloud Assure helps to ensure your VM migration is cost-effective and fit for purpose from day one.
We adopt a holistic approach to cloud migration journeys – from VM migration through to application modernisation and development, data modernisation and machine learning to drive innovation for years to come.
Click the button below to find out more and take advantage of our VM Migration flat rate offer today.