We're now approaching the last of our three-part webinar series on big data analytics in gaming (run together with Looker and Google Cloud. If you missed it, you can catch up here).
In last week's session we were joined by a very special guest – Ian Thompson, Head of Business Intelligence at gaming giant King – for a masterclass on best practice analytics and how the gaming industry has taken enormous strides forward in this space.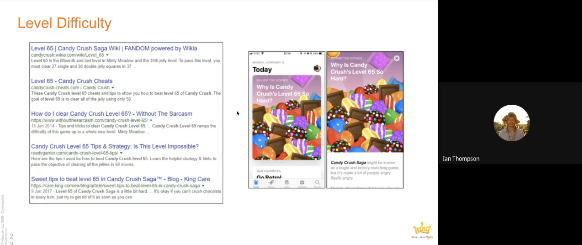 Gaming Analytics Webinar Series, Week 2
It was fascinating to examine how King reimagined its analytics and data culture. This was a two-pronged approach – on the one hand, new technology (particularly Looker and Google Cloud Platform) opened up a host of new opportunities, including improved scalability. But King also needed to restructure the data teams and revise how these operated within the business.
Although a base data team still looks after templates and the data warehouse, day-to-day analytics are now carried out directly by teams that report to particular stakeholders – for example, game performance units or financial analysts.
This is the same principle as seen in DevOps for Data Analytics – organisations build blended, empowered teams that are capable of solving business problems. These teams comprise partially technical and partially business units that are aligned to specific outcomes.
These teams and business users are then empowered to create relevant insight in minutes or hours, rather than having to rely on one or more hand-offs and iterations with technology teams to get the right answers over weeks.
"The BI & data world has changed – everyone who wanted to, could interact & alter what they did with the data" – Ian Thompson, King
This is a fantastic real-world example of the third wave of analytics, which can be defined as "easily-digestible analytics used by business users in real time", and an evolution from the second wave that encompassed "powerful tools used by reporting specialists at medium pace". The third wave also sees businesses starting to federate data capabilities into the wider business.
This is a philosophy that many organisations in industries such as retail and utilities are currently aspiring towards.
Sign up to our Gaming Analytics webinar series now to download the virtual sessions on-demand.
The business teams become able to focus on the here and now, the constant change and what is important in fast-moving industries. They can focus on matters important to the business rather than having to interrogate reports that can already be irrelevant by the time they are shared.
And they are much more reactive to the real world, allowing them to make positive, informed decisions that drive genuine outcomes, such as business growth and improved user experience.
Of course, getting there is not an immediate process, but can be made easier and faster by bearing in mind the cultural shift as well as the technological requirements.
At a high level, organisations that are seeing success in this space have first consolidated their data sources, however disparate and at whatever scale, into a single environment. In King's example, Google Cloud Platform provides the technology layer and Looker the visualisation layer.
These businesses have then imposed standardisation across the board for important metrics – in gaming, for example, common metrics can include D7 (day 7) player retention or Return on Ad Spend (ROAS). By then applying a centralised logic definition to these metrics, every team can operate effectively and consistently – even if they are in distinct units.
Equally, in the retail space, multiple different teams such as marketing, product and pricing may be operating in various different global markets, but the ability to standardise global performance metrics while addressing the unique requirements of a particular segment drives significant business improvements.
Increasingly, businesses that adopt the third wave model will see success whereas dependence on data teams and second wave thinking will continue to hold back organisations.
And looking to the future, the third wave is a critical step on the journey of making machine learning a core capability for the business – Google uses Machine Learning in every single one of their products, and this is a great aspiration for many businesses to aim for.
To find out more about how King uses big data analytics in gaming, and learn how to embed data capability into your broader teams, sign up to the webinar series and download the previous sessions.